| SYSTEM INFORMATION | |
| --- | --- |
| OS type and version | RedHat 8 |
| Webmin version | 2.001 |
| VirtualMin version | 7.5 |
very similar to what I reported back in Aug 2022, but today only the Virtualmin Framed Theme has the issue while Authentic displays things correctly.
On the brand new blank RedHat box I let install.sh do everything to get webmin and virtualmin installed and configured !! Of course then I had to go manually install wbt-virtual-server-theme – my YUM command found 9.4-1 in the NoArch repo (VirtualMin v7 setup) and installed it.
Then I went to Webmin – Webmin Configuration – Webmin Themes to select my alternate theme and now see: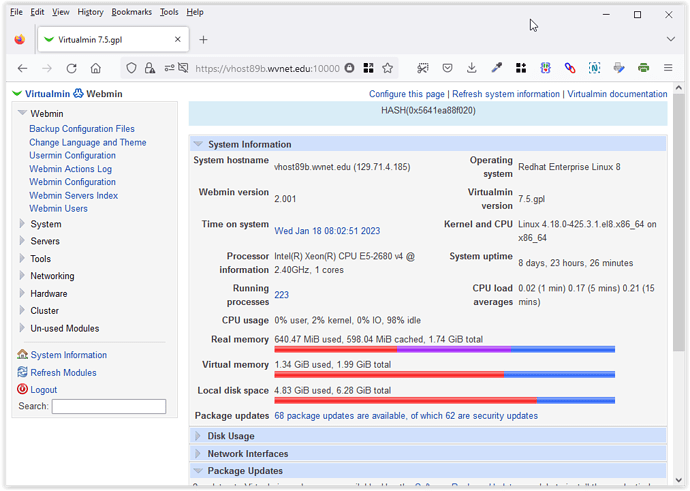 instead of something like this that is shown when using the Authentic Theme:
Note the green box announcing the added value from PRO. I believe that is what is contained in the HASH I am seeing in the other theme – the HASH is not being processed correctly I'm guessing.
Are the forums the wrong place for this – should I be posting someplace on github?
Possibly related – has wbt-virtual-server-theme been moved to a new home at github, perhaps forked or taken over by new supporters – if so do I need a new repo definition to find any recent releases – I see notes suggesting v9.8 of the Theme was released in May 2022?
BUT WAIT – now that I have re-read that new github page, it now says – Archived by Owner Nov 2022 – ReadOnly Now. Is this the retirement/death of the Virtualmin Framed Theme ??
Also of note — while the Gray Framed Theme is not useful to me as I need the VirtualMin panels, when I do try it, it also suffers from the HASH problem
Verne