| SYSTEM INFORMATION | |
| --- | --- |
| OS type and version | Ubuntu 18.04 |
| Virtualmin version | 7.3 |
I'm a little new to the server management, DNS, etc. domain and have been reading and watching YouTube tutorial for the past 2 days.
This question is related to my previous question for setting up Virtualmin, but is on a separate topic, so I'm asking here to help others find related questions.
I digged through the DNS system, and found there're several type of NS in the whole Internet system:
DNS Resolver (by your ISP), Root NS, TLD NS, and Authoritative NS (img below):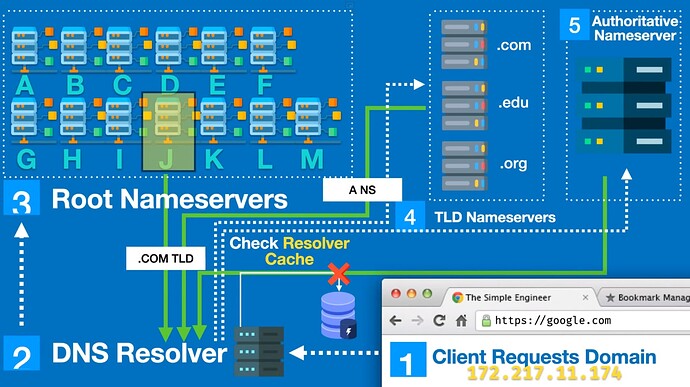 I'm currently using Google Domain to mange doman name and IP address, and are considering moving to Virtualmin and use Virtualmin as my DNS.
Here is my questions:
Which category does Google DNS belongs to in the above img? and what about Virtualmin on my VPS?
Since I bought my domain from Google Domain, I'm assuming Google Domain can talk to the TLD NS and update info to TLD NS, correct?
If I tell Google Domain to use my VPS as DNS, how will that work in turn? My VPS will talk to TLD NS and update the link between the domain name and my IP address?