I finally decided to upgrade from the stagnant MySQL 5.7 to the new MySQL 8 version on my inside the LAN server that only runs Webmin.
Almost all is well. I manage the databases mostly with phpMyAdmin, and that's working fine. During the config part of the upgrade I decided to not use the new password encryption until later on. That may have helped the upgrade go smoother.
If I try to access the database with the Webmin interface, I can't do it, all I see is the image below, and I don't understand the error message:
DBI connect failed : Lost connection to MySQL server at 'reading authorization packet', system error: 95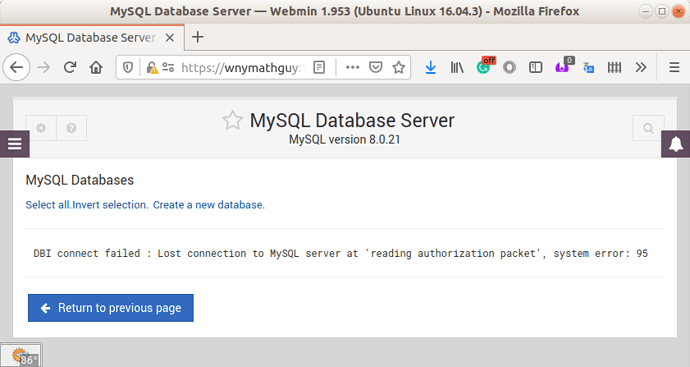 .
Naturally, I poked around the :10000/config.cgi?mysql&xnavigation=1 page to see what was different. I noticed the Path to MySQL shared libraries directory had /usr/local/mysql/lib in it and that folder no longer exists. Switching the radio-button to None for that option doesn't change anything that I can see. I don't know how to discover where the upgrade put shared libraries and thinking I was doing the right thing, I ran sudo apt-get install libmysqlclient21 because that's supposed to be the MySQL 8 community versions shared library installer.
The rest of the settings seemed valid. Though it's been a real lifesaver for me in the past, I can live without this Webmin Servers interface working, but it seems like were collectively overdue to start upgrading our database versions.
I saw something significant while trying to debug where in the source documentation conveys a message about having the mysql user possessing a home directory in /ust/local/mysql so maybe we are heading in to a lot of minor changes?
https://dev.mysql.com/doc/refman/8.0/en/data-directory-initialization.html