Operating system: Ubuntu 16.04
Hi,
My Virtualmin navigation menu disappeared. It shows only Dashboard menu:
Hi,
This is most likely a cache issue.
First reload Webmin with /etc/webmin/restart command
Second, clear cache from UI: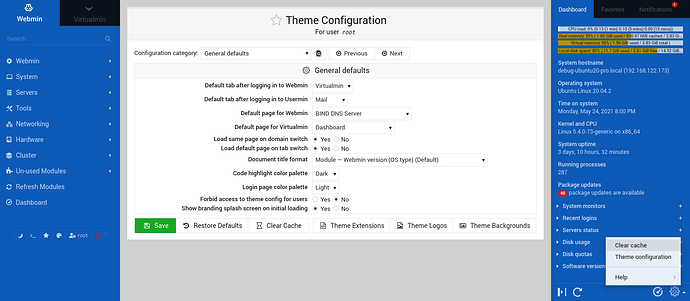 If above doesn't help, check that Virtualmin module is actually allowed for the given user in ACLs on Webmin ⇾ Webmin Users: Edit Webmin User page:
This topic was automatically closed 60 days after the last reply. New replies are no longer allowed.
Also, simply re-installing Webmin and Virtualmin packages using package manager, may help, in case installation didn't happen correctly at the first place.
dnf reinstall webmin wbm-virtual-server

or
apt-get install --reinstall webmin webmin-virtual-server