Operating system: UNIX Ubuntu
OS version: 20.04
PHP version: 8.0.2
Hello,
I have a project that requires enabling libraries (GD, Curl, Zip).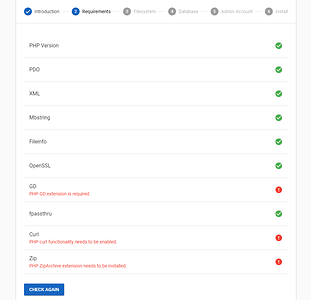 I looked online on old Virtualmin blog posts and Stackoverflow help, but half of them weren't working, and the other half made more problems than fining problems. Most of the resources were made for CentOS commanded ligne only and not for Ubuntu 20.
From Stackoverflow, I tried the line: sudo apt-get install php8.0-gd
But GD wasn't enabled.
How could I enable PHP libraries? Are they away from the GUI, if not from the command line?
Do you think PHP8 could cause the problem?
Thanks