| SYSTEM INFORMATION | |
| --- | --- |
| OS type and version | CentOS Linux 7.9.2009 |
| Webmin version | 2.101 |
| Usermin version | 2.001 |
| Virtualmin version | 7.7 |
| Theme version | 21.04 |
| Package updates | All installed packages are up to date |
I have been playing with some of the settings it the main server level (webmin), the virtual server level (Virtualmin) and checking the impact at the user level (Usermin)
These relate to the filtering and spam setup/control in Usermin
Steps to replicate:
Ensure the SpamAssassin and Procmail Mail Filter modules in Webmin/Usermin configuration are checked.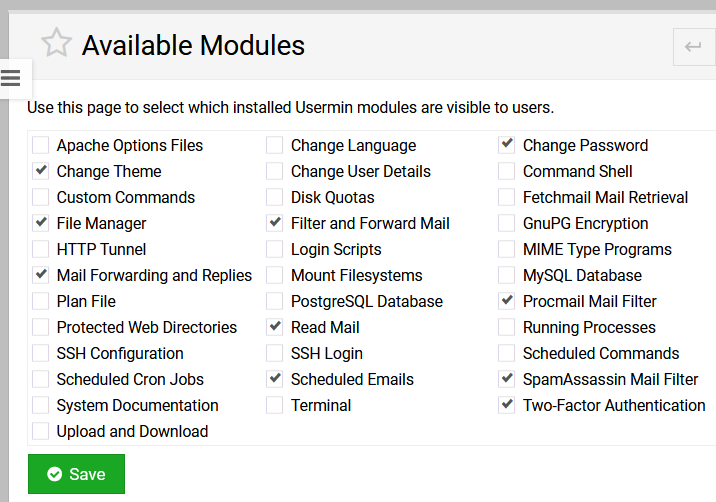 In Webin change the default SpamAssassin required_score to 4

Save and Apply Changes
Expected behaviour is that the Server's required_score should now be 4 therefore in Virtualmin the Default should be 4
I believe that no matter what the mainserver's required_score is set to the default in Virtualmin is always 5
In Virtualmin set the required_score to 3
Expected behaviour is that in Usermin the default should now be 3
In Usermin the default score should display 3 but displays 4
I believe that this always shows the main server's required_score for SpamAssasin.
In Usermin set the required_score to 2
Received messages in Usermin now display a required_score of 2
Return to the Usermin Modules in Webmin and remove the SpamAssassin Module.
Back in Usermin you will no longer have access to it but any settings made previously will still be in effect. Messages received still display a required_score of 2 which should have changed to the virtual server setting of 3.
You will either need to manually edit (or delete?) the pref file or re-enable the module to revert any changes made there.
There is also the option in Virtualmin to toggle the Allow mailbox users to create mail filters.
Since it is under Spam and Virus Scanning my assumption was that it will disable the SpamAssassin settings previously made. This however appears to be wrong. According to the help it blocks access to the local user Procmail file where all custom filters made by a user are stored. From what I can see it has no impact at all on SpamAssassin.
Maybe the idea originally was that users may use custom filters to search for Spam? Since I use these filters for organizing messages and SpamAssassin for Spam it makes little sense to me.
I personally believe that this command is in the wrong location or the Dialog Title needs to be re-thought.

Summary
Default settings for the SpamAssassin 'required_score' do not display changes from current overriding settings
Changing the accessibility of the SpamAssassin module in Usermin only hides access to the tool but does not change any previously saved configuration which could result in unexpected behaviours for users.
User prefs file needs to be deleted or possibly renamed if it might need to be reused if access is granted later.
The Spam and Virus Scanning dialog under Virtualmin contains features that do not actually pertain to Spam specifically but instead to Filtering tools which can also result in unexpected behaviours and confusion for users.