OS type and version: Rocky Linux 9.2
Virtualmin version: 7.7
I have Virtualmin running on a Rocky Linux VM, exposed to the internet on my router. The VM is running on a TrueNAS server, which also has several other VMs / Jails on it from before I discovered Virtualmin.
Prior to Virtualmin, I had a simple Caddy server acting as a Reverse Proxy for the various Jails I had running. I'm in the process of moving off that setup, and would like to use Virtualmin to set up a handful of sites to act as those proxies instead. In particular, I'd like to serve up https://cloud.aiskon.net to point to a local server, http://10.0.0.242
Here's the settings for the Proxy tab in Virtualmin, but when I browse to the site, I get the default Virtualmin page instead of any sort of Proxying: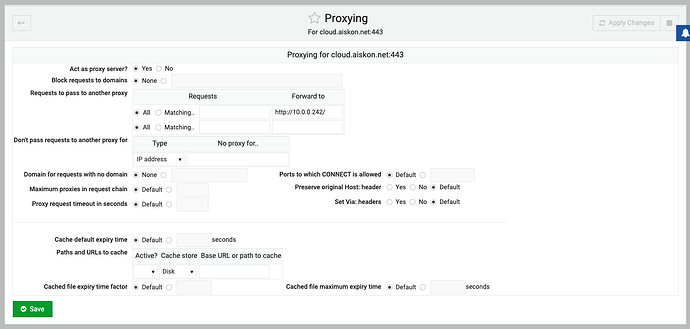 I did look at the Bobcares page for proxying, but it doesn't match the current version of Virtualmin, it seems. Any guidance on what I am missing?
Thank you!