Hi All,
It appears one cannot use port 1 as the access point to Web/VirtualMin (i.e. box.website.com:1) and attempting to do so kills VirtualMin. Specifically, after moving my new staging server to port 2, I wanted to move my live site to port 1 and my "lab" (experimental server) to port 3.
The change was made at the same page as here: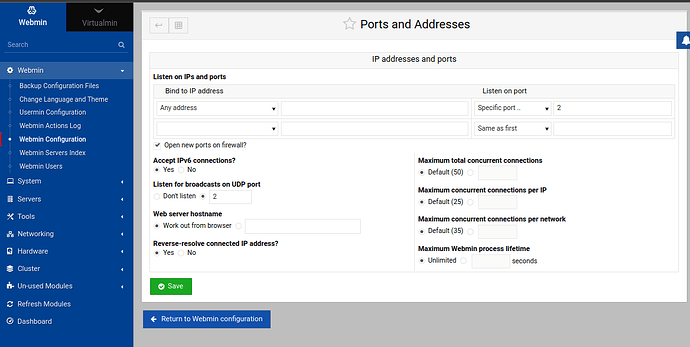 I can no longer access VirtualMin to fix the error, so I suppose I need to know: which config file(s) do I need to edit (location/filename) to reset the port to something other than 1?
As noted, I have no access to VirtualMin now, so the fix will have to be via terminal, methinks…please and thank you:)
Shawn
| SYSTEM INFORMATION | |
| --- | --- |
| OS type and version | Ubuntu 22.04 |
| Virtualmin version | 7.7 |