I am testing VirtualMin 7.1 after using 6.17 and older versions for several years.
I took an older test RedHat system with … 6.12 maybe?, updated it to 6.17 first, then updated it to 7.1 with
yum update wbm-virtual-server
and things went well. I also updated webmin to 1.994.
But now on the System Information panel, at the very top is displayed
HASH(0x65f3330)
when using the older Virtualmin Framed Theme. So I tried Authentic as I believe it is much newer. Now the error shows up when clicking on the small right hand floating Message/Notification – on that popup/flyout item, its towards the bottom in the Information! section – again displaying HASH(xxxx) instead of an actual message.
I played around a bit with Data::Dumper in /usr/libexec/webmin/virtual-server-theme/right.cgi to see what's going on, but do not know how to fix it or where the real issue is.
I have a number of production RedHat servers and was hoping to do the 7.1 update in place … I have not yet tried installing 7.1 on a newly built system. My guess is something left over from my older configs could be the issue.
Here is what I see when using Authentic: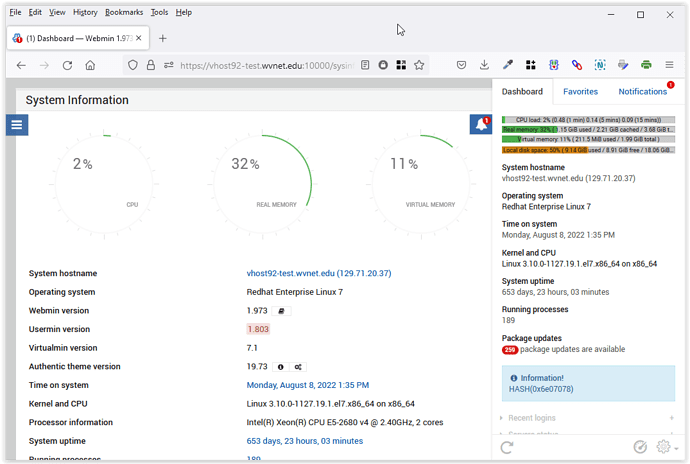 and here is my Framed Theme display with several debugging PRINT statements
Thoughts anyone?
Verne