Hi everyone, my dedicated Fasthosts dedicated Ryzen 7 3700 Pro (8 core - 16 threads) server with 64GB memory and dual 1TB NVMe drives crashed yesterday apparently due to CPU overload caused by massive spikes in PHP-FPM processes on a number of sites running FPM, which was all of them.
It is a production web server hosting about 20 websites and none of the sites are particularly busy (my busiest site gets maybe 1.5k visitors per month).
Has anyone found this has happened recently? I don't have any updates to run and haven't had any issues with this server running Virtualmin in over 1 year. The Virtualmin dashboard only shows 1-15% CPU usage which is really strange as Fasthosts talked to through running HTOP, which showed some users/sites using 99% CPU usage for 1x php-fpm process…and running multiple php-fpm processes at a time.
Does anyone else know what might have caused this? I've attached a few htop and Virtualmin screenshots showing what is going on, but I've had to turn nearly all my servers off php-fpm and set them to default PHP, which is a lot slower! Snagadmin user is the only 1 I have left on php-fpm as it is the busiest site and crashed as soon as I turned FPM off!:
Compare htop, which explained the crash to the dashboard Virtualmin CPU monitor and I'm just baffled by the disconnect. With a very powerful Ryzen gaming processor, my sites have been flying and barely been touching the sides on this server!: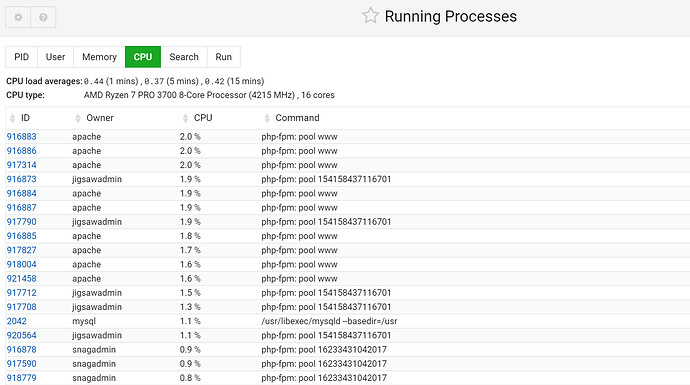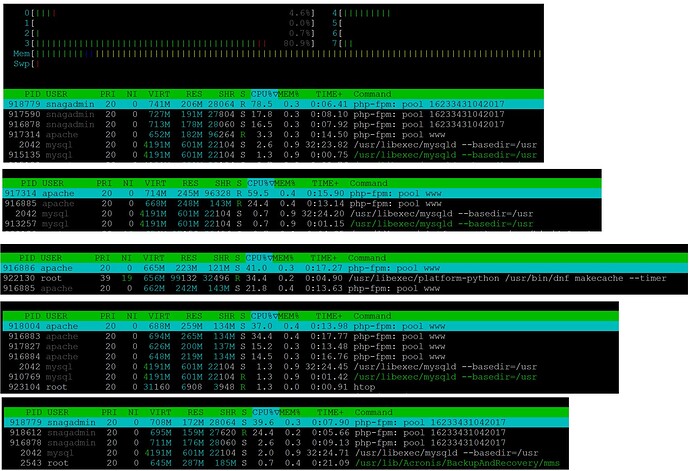 Any help would be massively appreciated as I can't be the only one with this problem.
| ** | SYSTEM INFORMATION** |
| --- | --- |
| OS type and version | CentOS Stream Linux 8 |
| Webmin version | 1.994 |
| Virtualmin version | 7.1 |
| Related packages | PHP-FPM |