I have a subdomain "adminserver.rodningenmarketing.no" which points to my virtualmin host (where I login to the virtualmin panel). I was able to request an SSL certificate from Let's Encrypt (LE) for this subdomain twice in the past (started using virtualmin 5 months ago). This time it failed.
I have two virtual servers running:
hvalergjestehage.no
rodningenmarketing.no
Error from LE-page in virtualmin, when requesting for rodningenmarketing.no and adminserver.rodningenmarketing.no: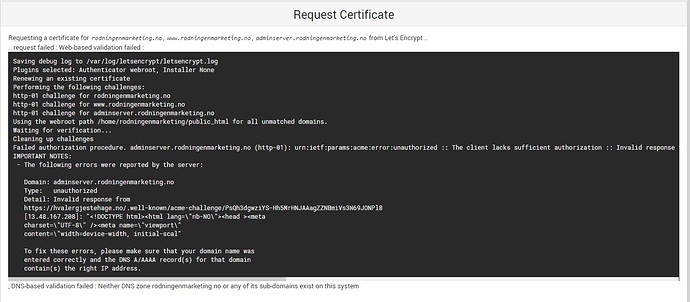 What's weird is that rodningenmarketing.no seems to pass the challenge, while adminserver.rodningenmarketing.no tries to do the challenge through the other domain hvalergjestehage.no… I set rodningenmarketing as "default website for IP address" under "website options".
I can't remember having changed anything accross the virtualmin host since the previous LE-request 2.5 months ago. The only thing that has been changed (that I can recall) is some nginx-site config for cache. I also just did a manual LE update for hvalergjestehage.no which was approved.
Appreciate all support on solving this!