| SYSTEM INFORMATION | |
| --- | --- |
| OS type and version | Ubuntu 20.04 |
| Webmin version | 2.013 |
| Virtualmin version | 7.5 Pro |
| Related packages | Apache Modules |
A while ago I enabled HTTP/2 and thought it worked, until I saw this in the Apache error log file:
[Fri Mar 17 12:53:15.370636 2023] [http2:warn] [pid 42376] AH10034: The mpm module (prefork.c) is not supported by mod_http2. The mpm determines how things are processed in your server. HTTP/2 has more demands in this regard and the currently selected mpm will just not do. This is an advisory warning. Your server will continue to work, but the HTTP/2 protocol will be inactive.

There is a wealth of information on the internet regarding MDM and basically it appears MDM-prefork is incompatible with Apache and HTTP2.
What's not entirely clear, considering I want to run PHP-FPM and the "latest PHP", what to choose below?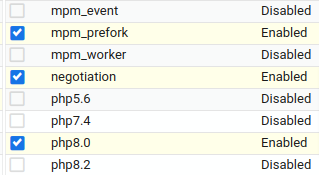 Any tips?
Can I deselect mdm_prefork and select both mdm_event and mdm_worker?
I found this good reference but still unsure after reading many of the posts: