| SYSTEM INFORMATION | |
| --- | --- |
| | |
| OS type and version: Ubuntu 20.04.2 LTS | |
| Webmin version: 1.973 | |
| Virtualmin version: 6.16 Pro | |
| Related products version: | RECOMMENDED |
---
I have installed the necessary PHP Pear modules for Horde to install, however when I go to install the script for Horde I receive the following error message.
Here is a screen shot of the modules showing installed and stable: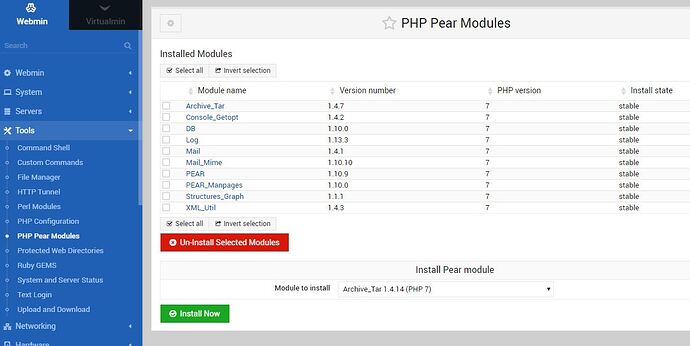 The settings page for the Horde Script Installation page:


Here is the error I receive after running the Horde installation script:

But if you look to the first image it appears PHP Pear modules are installed and functioning correctly; as far as I can tell.
I rebooted the Apache server and also rebooted the entire server twice without any resolution.
What am I missing with regards to the PHP Pear module error message when installing the Horde installation script?
Thank you in advance
Matt