| SYSTEM INFORMATION | |
| --- | --- |
| OS type and version | Ubuntu Linux 20.04.5 |
| Webmin version | 2.010 |
| Usermin version | 1.860 |
| Virtualmin version | 7.3 |
| Theme version | 20.10 |
| Package updates | All installed packages are up to date |
I have an Server on Hetzner, which has the IP 49.12.xx.xx AND a FloatingIP: 78.47.xx.xx.
I've configured Virtualmin Addresses & Networking > Shared IP Addresses in this way:
If I do create a new Virtual-Server and keep all "IP-Settings" as it is: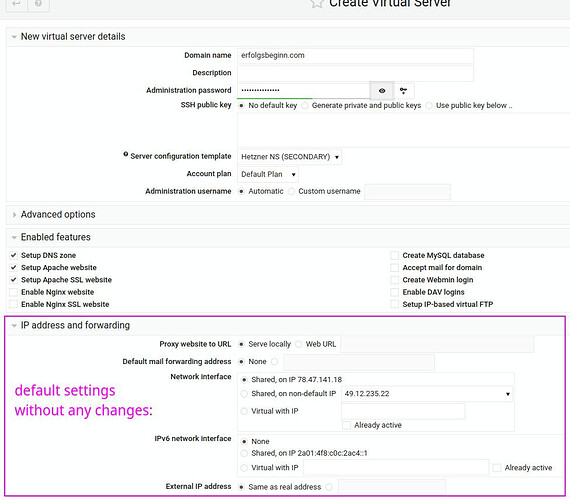 If I look into the DNS-Records I found the general IP Address of the Server, instead of the floating-ip:


I think apache should listen on the floating-ip for this domain… else it wouldn't make sense to have an floating-ip, or am I wrong?
May the issue be caused of a miss-configuration of my virtualmin, or is it needed to set IP address and forwarding > External IP address manually for each new Virtualserver I do setup?
BTW: If I go to Edit Virtual-Server I see this:


And if I go to Change IP Address I see this: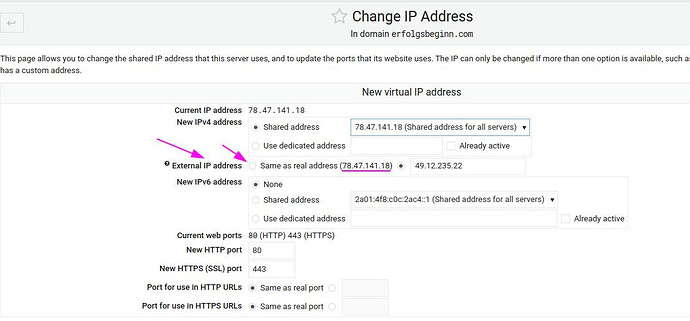 Isn't it strange, that on the last Dialog External IP address is manually set to 49.12.xx while 78.47.xx is described as Same as real address?