I have what we would call an /sda and and /sdb , two raids. All seems to be ok, sda is used for system and is a Raid 1 of two SSD's .
I don't want my webs to go there so I have defined my second RAID5 - a 7TB array of 14 2,5" drives - but how to verify it is actuallt correctly setup? I define storage areas when creating my virtual servers and default is /home/[servername] and that ends up being in sda where I do not want it.
This is how my 7TB RAID5 looks like after som fiddling, I named it "terabyte" on purpose: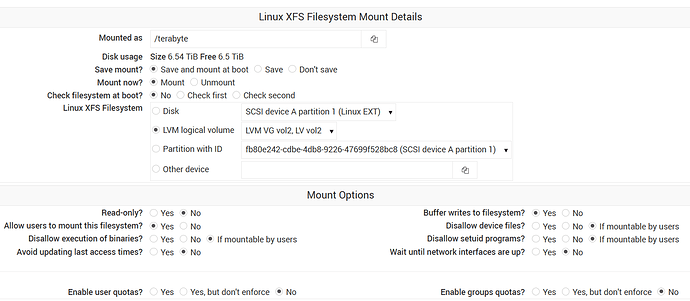 Maybe, adding to the confusion I made most of this in Cockpit and it shows up in Webmin but I am not sure where to do it for it to be correctly setup. Both systems seems to detect the drives properly yet I am unfamiliar with disk/partition/storage pools in this environment. I do know the concept, been doing these things in Windows on an off for many years but here I am just confused.