| SYSTEM INFORMATION | |
| --- | --- |
| OS type and version | Ubuntu Linux 20.04.4 |
| Webmin version | 2.000 |
| Usermin version | 1.860 |
| Virtualmin version | 7.1-1 |
| Theme version | 20.00 |
| Package updates | Alle installierten Pakete sind auf dem aktuellesten Stand |
I have some slow attacks from Russia.
They are pretty clever with their hacking attempts . They doing something like a slow brute-force… they only try for 3 logins per hour: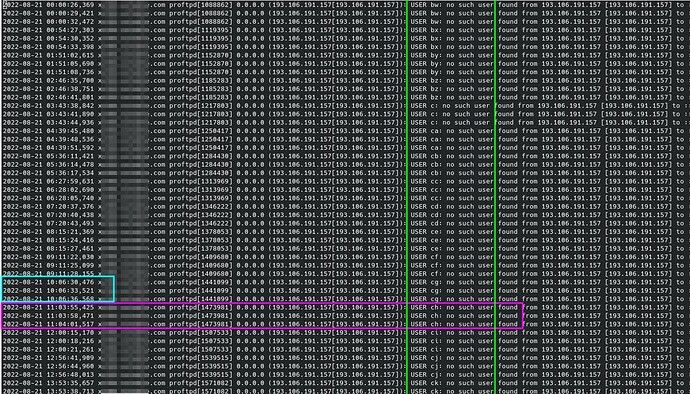 What would you suggest to stop them.
Here is what I do try, any maybe you can tell if that's a good Idea or if there are better ones:
I've opened the existing /etc/fail2ban/filter.d/proftpd.conf configfile and removed the first line of the failregex to put it in a seperated filter (to be able to set other ban-times.
I've created a new filter named proftp_noSuchUser (/etc/fail2ban/filter.d/proftp_NoSuchUser.conf) and put in there the same as in proftpd.conf, but for failregex only the first line (which was removed from proftp)
Then I've created a new jail which check for the last 3,5 hours, if there are more then 9 attempts with a wrong username from the same ip, and if, I ban it for a month.
Webmin - leak of information
Unfortunately it's not clear, what kind of inputs are possible for the values. Must I write it in seconds (as fail2ban generally use it that way), can I use 10m for 10 Minutes, or 10d for days?
Would be an big enhancement if we have a short note what kind of values are possible in the input fields.
I've found that on many places in Webmin & Virtualmin those informations are missing.