Ubuntu 20.04
I have a server with around 190 sites all supposed to be set up fairly consistently after a server migration. Before around a week ago I could use Thunderbird's auto configuration and instantly setup a new email account. Now it's not working for outgoing and some clients are complaining about security warnings.
In Thunderbird outgoing is failing every time because it seems to default to the Default website's certificate.
Example when I run the wizard for domain @everbuildconstruction.co.za, it finds the settings perfectly, but on every outgoing message I get this:
On the next screen as per screenshot below, when you press "View Certificate", the certificate of the default website is displayed: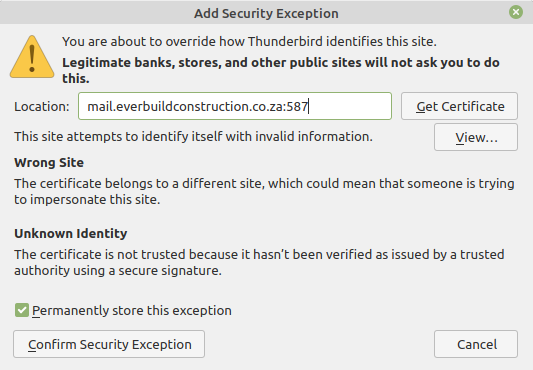 The wrong certificate is showing as below!
So in the example above mail.everbuildconstruction.co.za is not picking up it's own outgoing certificate in Thunderbird, instead defaulting to batman.vander.host which is the server's default website.
I'm not sure if this is just an auto configuration problem or if something more serious took place. Before the server's default website was the very first website on the list of sites, but I changed it intentionally to batman.vander.host.
The thing is it appears SSL for outgoing domains are okay, e.g. mail.everbuildconstruction.co.za looks okay I think using this service:
https://www.sslshopper.com/ssl-checker.html#hostname=mail.everbuildconstruction.co.za
I'm going into a mild panic because I don't know how prevalent the problem is but the fact that autoconfig is not working is going to be a huge problem for our help desk.