Hello,
since some days i have a big problem, the CPU Load goes up and down between 26% and 65% continously while the Local Disk Space runs full with temporary data, also the virtual memory. It gets quicker and quicker full now 22 Minutes after Restart i am already at 46% Disk Space. What was weird is that i have restarted it yesterday before going to bed and awaited that all is full in the morning but all was normal. It must be temporary Data / Files because after a Restart all is back to normal.
Checked the Disk Usage of all Virtual Servers as the Disk Usage was at around 75% Disk Space but all was normal.
I have this setup since about a year and all packages, including Virtualmin and Webmin should be up to date. Last things changed was the Webmin update to 1.990, including Authentic Theme and i added a Virtual Server to Virtualmin as an E-Mailserver without Website.
Here is a Screenshot of the Dashboard with the full Disk



That is normal:


On running Processes List the Database Server is on top with CPU load but on 2nd to 5th is the Authentic Theme.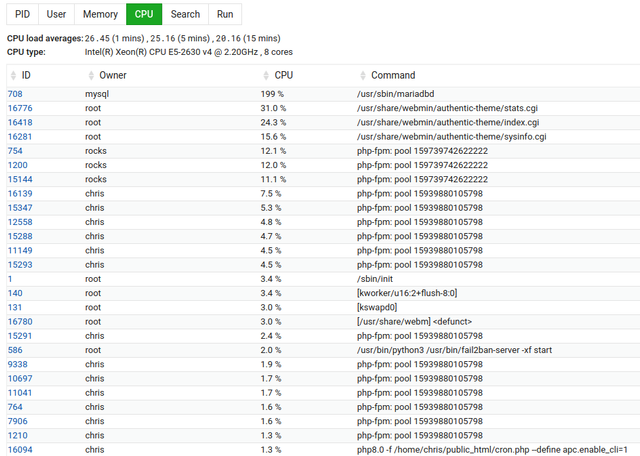 | SYSTEM INFORMATION | |
| --- | --- |
| OS type and version | ubuntu 20.04 |
| Webmin version | 1.990 |
| Virtualmin version | 6.17-3 |
| Database Version | MariaDB version 10.5.13 |
I have no Idea where else i have to search. Thank you in Advance for your Help.
Chris