Alma Linux 8.5
Virtualmin 7
Hi. I'm afraid I'm here to ask for her lol again. I've read through the questions on here about using Virtualmin and having my DNS at Cloudflare. If you think I would be better off raising this with Cloudflare again please just tell me but I've already raised it with them and they directed me back here when I asked them. I can get the domain to work with the domain to go to the default holding page if I use flexible rather than full strict or full. I have tried all those options and only domain works and gives m
I cannot add Let's Encrypt SsLs to my domain and subdomain. I get the error messages that are shown below for my domain: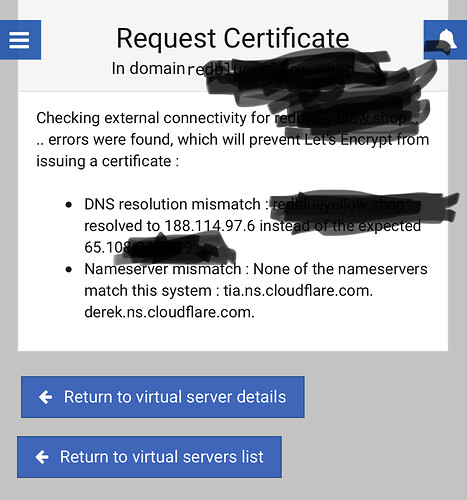 And the following message for my subdomain: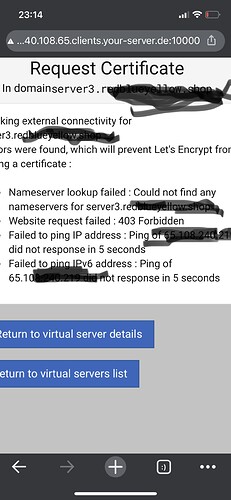 I think from reading on here that one of the first problems here is that once going through Cloudflare means that the IP address pointing to my server changes to one of Cloudflare IPs which Lets Encrypt doesn't like so fails to go through. Is that correct? What fix is there for that. There is also the problem that Cloudflare told me was that their IP addresses will not stay with the one they are using just now.
Name server mis match is another problem as on Lets Encryt it is showing the domain name servers as the Cloudflare ones. I added these to the Virtualmin DNS but that didn't work. Could this be because there is then a perpetual loop? Do you know how I fix that?
In the second pic, it says namservers for my subdomain.com could not be found. Yet I have the name sets using the Cloudflare NS too.
The next problem is that