More than 3 years ago I installed a new Webmin/Virtualmin server. After few days I found some "already banned" ips in fail2ban.log. I had a very long thread about that issue with the app developer. I couldn't solve the problem via iptables. I wrote a couple of scripts to block those ips via firewallD.
2 days ago I developed a new virtual host with Alma Linux 9 and a fresh install of Webmin Virtualmin.
Then I installed some software but I never change anything related to firewall and fail2ban setting by myself.
I got freezed when looking at fail2ban.log and found again some "Already banned". If the ip has been banned it has access only when it is "unban".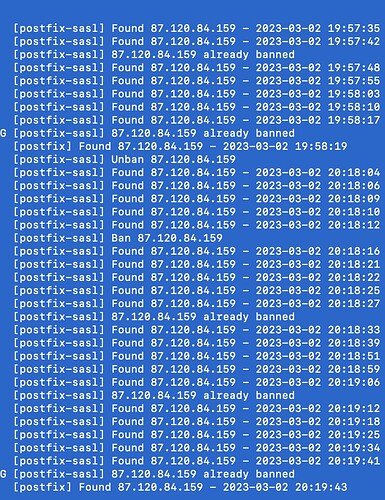 My knowledge on this matter is very poor so I don't want to try anything.
Here are stuff I've done after Virtualmin install:
Changed hostname, ssh port, php conf
Install nano, mlocate, imagemagick, ksh, postfix-perl-scripts, exiftool, php-extensions, sphinx, phpMyadmin, trying to install Horde (pearl), Roundcube, phpMailer.
Blocked some domains in named.conf
Thanks for help