I did try and post this earlier, but I think it got deleted
| SYSTEM INFORMATION | |
| --- | --- |
| OS type and version | Ubuntu Linux 22.04.1 |
| Virtualmin version | 7.3-1 |
Hello Awesome Virtualmin Peeps,
I've recently setup a Virtualmin server on my home network for running some WordPress websites and some mailboxes.
The setup went really well. I can access the boxes web interface just fine using the local network address +port number with no issues. But when trying to access the Virtualmin dashboard using its configured hostname+port ms2-virtualmin.wpfreelancer.co.uk:10000, I'm having issues with the page hanging. The Virtualmin logo and spinner appear briefly, but the page doesn't load
I believe this is a DNS configuration issue but I'm not sure where I'm going wrong.
I've set the system hostname to ms2-virtualmin.wpfreelancer.co.uk and added A pointer record in my DNS to the IP address which has propagated.
Looking at the browser debugging tools I'm seeing NS_BINDING_ABORTED on some of the network traffic which I assume is being caused by DNS misconfiguration.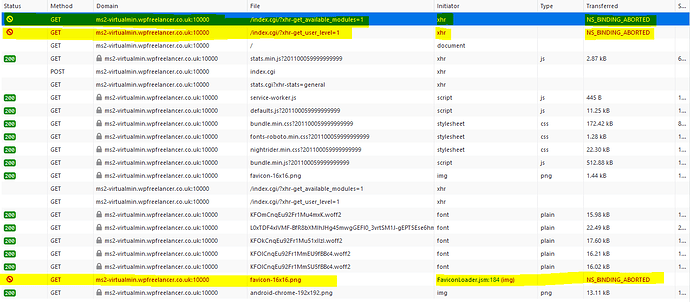 I've setup a Virtual server for ms2-virtualmin.wpfreelancer.co.uk and issued an SSL cert with Let's Encrypt. I'm not using Virtualmin for DNS management, at the moment. For this DNS zone, the following nameservers have been setup, I'm using 'Google Domains' registar and I'm looking to copy and manage any necessary DNS configuration via Google Domains dashboard so I can learn more about DNS and what is necessary and what isn't. The nameservers for this zone have been set to
Any ideas or pointers to investigate would be great. Many thanks.