| SYSTEM INFORMATION | |
| --- | --- |
| OS type and version | Ubuntu Linux 22.04.2 |
| Virtualmin version | 7.7 Pro |
I am having a problem with unauthorized users using my system as an email relay. One IP address in particular is constantly trying to access my smtp interface. I have added the files Sender_access and Client_access to block this person, it looks like successfully, but it is annoying to have this person try to connect to my server every second. It also makes my logs very large and hard to examine.
However, it looks like occasionally a hacker has gotten in. They then created thousands of emails which is damaging my ip reputation and of course generating tons of spam. I have been monitoring this situation as I have added more rules to postfix and usually can erase the queue before too many messages are sent. I have noticed the few times this has happened it looks like someone is logging in using root.

I therefore looked at the user root. from the webmin site it looks okay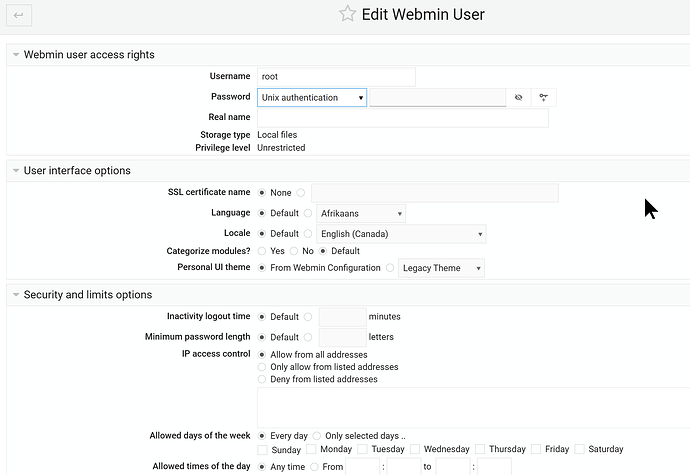 But from the system users and groups I see this

This does not seem correct, and I am tempted to change this to no login allowed. Would this be okay or do I need to secure the account with a password. I never use the root user to login to either the console or virtualmin as my user account works so it seems to be that I should disable this. I just want to make sure this is safe.
On another note, is there a way to prevent the user from the ip address from attacking my server every second that would be nice. If I could just block this ip address from even reaching my smtp interface. Hopefully changing the root user will close this security loophole. Perhaps I am approaching this incorrectly.