| SYSTEM INFORMATION | |
| --- | --- |
| OS type and version | Ubunru 18.04.6 |
| Webmin version | 1.990 |
| Virtualmin version | 6.17-3 |
| PHP7.3 | |
server with 4GB memory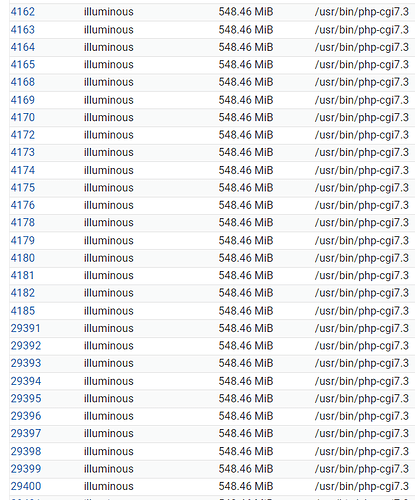 Guys, I have super high mem use
I have SCANAV installed on each domain, and also virusscan - this was making my mem to be ~50%
but the issue seems to be PHP7.2 or PHP7.3 is leaving files open ? see attached pic, there are hundreds of PHP7.3 PID with ~550MB use!
how can i find why they are open ?
my sites use a lot of graphics, so assuming it is the bootstrap handler for the images ?
Thanks
Rob