| SYSTEM INFORMATION | |
| --- | --- |
| | |
| OS type and version: | Debian 10 |
| Webmin version: | 1.973 |
| Virtualmin version: | 6.16 |
---
Hello,
I have an problem with an second ipv4 address on my server.
I added this ip but the domain pointed to this address can't be reached.
I added the Adress to
enp3s0:1 with the same netmask as the first IP. 255.255.255.224
that's correct. Restart. Bind9 but nothing happens. The domains pointed to this address cant be reached.
Then I removed the domain again and added it again with the ip from the first networkinterface. But not working. Also all new added subdomains not working.
Dig tells me this.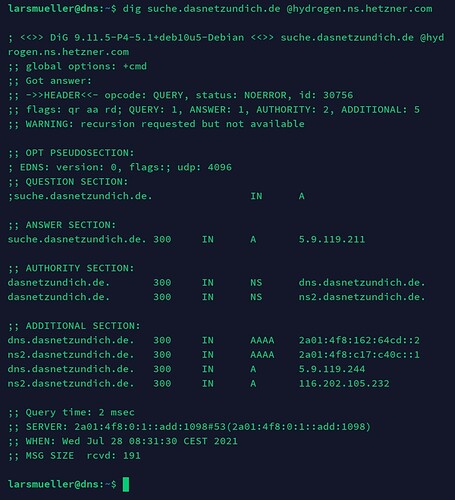 The Problem starts with changing the Hostname of the Server. From server.geturl.eu to dns.dasnetzundich.de.
Virtualmin is working correct with the hostname also Debian but Bind has problems with it.
Can anyone help me?